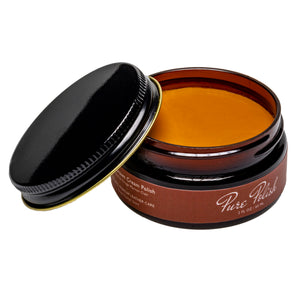 Single two ounce (2oz) jar of Pure Polish Light Brown Cream Polish. ​
Use for protecting, conditioning, and shining all non-suede/non-patent leather goods. 
The Color Cream Polish is a pigmented/colored polish. This is our "everyday" polish. Perfect if you want to restore color, condition, and add a soft shine to any of your leather goods.
Fragrance: product has an aroma of fresh, sweet oranges
Product contains: orange oil, coconut oil, beeswax, carnauba wax, non-toxic pigment.
Great polish!
I've been looking everywhere for a non toxic shoe polish and I was so pleased to discover Pure Polish. I ordered light brown and navy. They work just great on my heels and add the touch of elegance that I wanted. I'll be ordering more without a doubt!
Simply The Best
Love the ease of use, the buttery cream, and the beautiful shine!