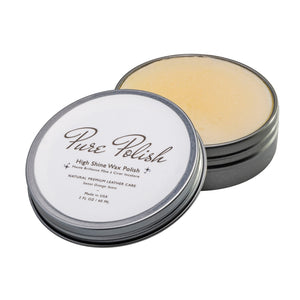 Single two ounce (2oz) tin of Pure Polish Products High Shine Wax Polish. ​
Used for protecting and shining non-suede/non-patent leather goods, typically toe caps and heel quarters of dress shoes. 
*This is our recommended polish for adding a mirror shine (bull shine or spit shine)
The High Shine Wax Polish has no color; it's a non-pigmented, clear polish. Perfect if you don't want to worry about color-matching, or for vintage or dress shoes with a patina.
Fragrance: product has sweet orange aroma.
Product contains: orange oil, beeswax, carnauba wax.

Where has this been all my life?
Works exactly as promised
Love love love that it has a nice smell and I don't feel worried about applying with my fingers.
A little does go a long way
Awesome product , Awesome service
i am very pleased with the product. The prices are good and the qaulity is amazing. The shipment arrived very fast and very well packed.I wil be making many more orders
Hard to work with
As an avid shoe enthusiast, have experienced many polishes and waxes. This particular wax I cannot figure out. Most of us have gotten beautiful mirror glacage from different brands . The Pure Polish starts to frost over after a few minutes and is unusable. Maybe it's me. Smells good though.
I appreciate you giving our High Shine a chance! We'll keep working on the environmental temperament of the product, and continue making more instructional videos. Thank you for your feedback, Jeremy!
~Andy
Great Product
THe high shine was polish works great. I followed Andy's youtube video and quickly reached high shine.
Wasn't overly impressed
This stuff smells nice and will give an average shine but it's hard to work with if you are after a mirror shine. No matter how hard I tried I couldn't get the gloss that I've gotten with other waxed. The shine I did develop I had to work twice as hard to get. I wanted to like this, I was hoping for a better result. I don't care for it and the result in my opinion was lackluster for the labor. Sorry, but that is my opinion.
Hi Troy. I appreciate your feedback and am sorry for your negative experience with Pure Polish. Do you feel that more tutorials would have been helpful in navigating the shining process with our products? I'm open to ideas on how we can improve, so that customers have fewer struggles in the future. Thank you! ~Andy