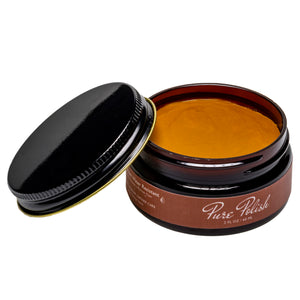 Single two ounce (2oz) jar of Pure Polish Light Brown Water Resistant Cream Polish. ​
Use for conditioning, shining, and providing water-resistant protection to all non-suede/non-patent leather goods. 
The Water Resistant Cream Polish is a pigmented/colored polish. 
Fragrance: product has an aroma of fresh, sweet oranges
Product contains: orange oil, coconut oil, beeswax, carnauba wax, non-toxic pigment, sodium bentonite. 
Works great!!!
Works great, water beads up and runs off. Will order again. Thanks
It works!
I didn't realize that all "water resistant" or "waterproof" products are NOT the same until speaking at length with Andy, the owner. I like how this product does not use silicones or the like that will prevent the leather from breathing. Also, those other products may harm the leather over time. The bentonite clay in the polish really works! I did a water resistance test with the Pure Polish water resistant cream on one shoe and just Saphir cream polish on the other. The water resistance increased SIGNIFICANTLY. This is important if you live in an area with a lot of rain and snow like I do. This is a very good product, especially for your light colored full grain leather shoes, which are the most suseptible to water and salt damage.
Great product
This are the best products by far available for shoe care