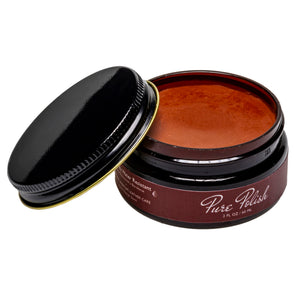 Single two ounce (2oz) jar of Pure Polish Burgundy Water Resistant Cream Polish. ​
Use for conditioning, shining, and providing water-resistant protection to all non-suede/non-patent leather goods. 
The Water Resistant Cream Polish is a pigmented/colored polish. 
Fragrance: product has an aroma of fresh, sweet oranges
Product contains: orange oil, coconut oil, beeswax, carnauba wax, non-toxic pigment, sodium bentonite. 
Pleasant and Effective
Nice smell and an easy way to achieve a mirror shine.
Great Products!
Just tested the pure polish products on my shell cordovan shoes and I can tell they are great! Highly recommend them.
Good stuff
I wanted to add an extra measure of water resistance to a pair of new shell. The cream enhanced the shine, but you need to know what you're doing. The cream residue would rather stay in the corners and seams. So, after your application dries, you'll want to give your shoes a vigorous brushing to prevent buildup. Excellent product.
Great for shell cordovan
I've been using this product on my shell cordovan shoes while sunning them over a few days.