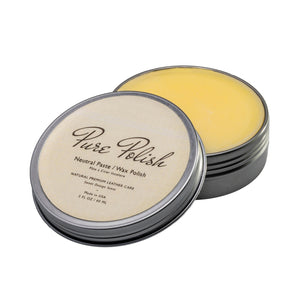 Single two ounce (2oz) tin of Pure Polish Neutral Paste / Wax Polish. ​
Use for protecting and shining non-suede/non-patent leather goods, typically toe caps, heel quarters, and soles of dress shoes. Neutral Paste / Wax Polish is great for protecting exotic leathers and boots, where you don't want a mirror shine.
The Neutral Paste Polish is a clear non-colored polish. It is easier to spread than High Shine, yet still provides a nice shine, and protective layer.
Fragrance: product has an aroma of fresh, sweet oranges
Product contains: orange oil, coconut oil, beeswax, carnauba wax.