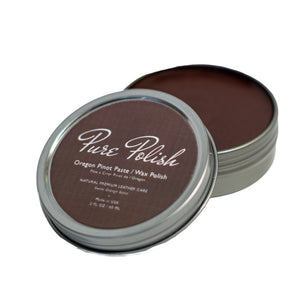 Note: This is a limited release color
Single two ounce (2oz) tin of Pure Polish "Oregon Pinot" Leather Paste/Wax Polish. ​
The "Oregon Pinot" color is a saturated deep purplish, wine color. It has more blue in it than our burgundy, and more red tones than navy blue.
Use for protecting and shining non-suede/non-patent leather goods, typically toe caps and heel quarters of dress shoes. 
The Color Paste Polish is a pigmented/colored polish. 
Fragrance: product has an aroma of fresh, sweet oranges
Product contains: orange oil, coconut oil, beeswax, carnauba wax, non-toxic pigments.
Works great, nice fragrance
This is a premium products that performs as such. Excellent mirror shines can be achieved easily.
Oregon Pinot Leather Paste/Wax Polish